Sixth Form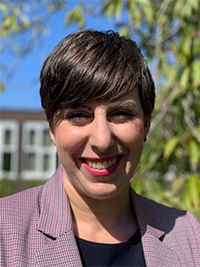 Welcome to the John Hampden Grammar School. As Director of Sixth Form, I am proud of our thriving and ever growing Sixth Form, that values strong academic outcomes and the community links we have built.
Here, students develop the skills necessary to play an active role in society. They leave the school armed with the knowledge, independence and resilience, gained through valuable experiences and opportunities, which ensure that they have the confidence to be ambitious and reach their full potential.
We offer an extensive A-level curriculum, taught by subject experts who want to share their passion for their subject. Most students in Year 11 choose to stay with us for their Sixth Form studies but we also welcome a strong number of external applicants each year, who meet our entry requirements. Our highly professional and experienced Sixth Form Pastoral team, provides all students with a supportive environment, where all students are encouraged to challenge themselves.
At John Hampden, we recognise that universities and employers are looking for more than just a set of exam results from our students and therefore our Sixth Form students are encouraged to develop their skills beyond their academic studies through participation in our Enrichment Programme. Activities include senior sports, debating, Duke of Edinburgh, charity and volunteering, mindfulness, horticulture, tv/music production and photography - with additional activities added each year to adapt to the needs of our students. Beyond the classroom, many of our students take on new responsibilities and leadership roles - ranging from being an academic or student mentor, supporting younger students, to Junior/Senior Prefects and a role on the Head Boy team. All students have the opportunity and are encouraged to play a pivotal role in the school's development.
We are very proud of the post-JHGS options support we provide our students, whether they are considering university, apprenticeships or employment. In Year 12, in addition to Options Information Evening, UCAS Day for Students and UCAS evening for parents, we offer a carousel of external speakers to ensure that our students are well informed of the different/various post-level pathways. We also offer a strong programme of support for those students applying for more competitive courses such as medicine, dentistry, veterinary science and Oxbridge which includes personal statement advice, university interview preparation and pre-admissions test guidance.
Thank you for your interest in the John Hampden Grammar School Sixth Form. For more information, please read our Sixth Form prospectus or feel free to contact the Sixth Form team via the sixthform@jhgs.bucks.sch.uk email address.
Ms Helen Burrow
Assistant Headteacher, Director of Sixth Form
Sixth Form at John Hampden Grammar School