Fundraising and Campaigns
The Canteen Expansion Fundraise 2023
As part of the opening of the new Innovation Hub in September we created and developed the Compass Quad, a new outdoor space for students to eat and relax in, the Canteen Fundraise is the next stage of this development.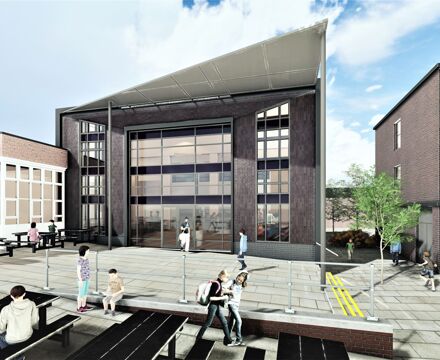 We are always looking to improve the school and ensure that our students have the most conducive and supportive learning environment.
The canteen at John Hampden should be a focal area for students to relax and enjoy eating with friends at lunchtime, having time to unwind and enjoy healthy cooking and conversation contributes greatly to the wellbeing of pupils.
Currently the canteen can only seat a fraction of the required students at any one sitting. It was built at a time when student numbers at the school were significantly lower than today's intake, and students struggle to find somewhere to sit and enjoy their lunch, especially during the winter months or wet weather.
We are raising funds to help with the expansion of the current canteen to extend the room to increase the internal seating area by 70% by converting an existing classroom and extending the current footprint into the Compass Quad.
Our external seating in the Quad will continue to provide further dining space with the addition of new outdoor canopies.
We are very grateful for those parents who have contributed to the JHGS Fund throughout their son's time at the school, and we thank you for your generosity over the years.
If you don't contribute already, please consider this as an option, every donation adds up!
There are three easy ways to pay:
ParentPay - via your usual school Parentpay account
Direct transfer to the JHGS Fund bank account, Sort code: 30-94-28 Account number: 07396736
JustGiving by using the box below or following this link - Canteen Fundraise 2023