Welcome from the Headteacher and Head Boy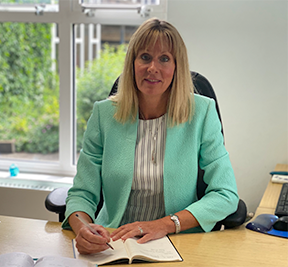 John Hampden Grammar School is remarkable. We seek to give our young men the personal qualities as well as the qualifications to carve out their own bold paths into the future. As you would expect, a challenging academic education is at the heart of what we do. John Hampden is an outstanding school with exceptional academic success. But in a changing world our young men will need more. They will need character, spirit, resilience. They will need to lead, to inspire, to take responsibility. They will need to care, collaborate and create. This is what we mean by #BeMore at John Hampden. We support every individual to build these qualities necessary for happy, successful and fulfilled lives, 'Big lives' as one of our students recently described it. The all round education and values your son will receive at JHGS are embodied in our motto "Quit Ye Like Men."
Our exam results are excellent at GCSE and A level and place us amongst the top performing schools in the country. These results equip our students to succeed at the best Universities in Britain and abroad, to secure places on ultra competitive level 3 apprenticeships and even to set up their own companies upon leaving the Sixth Form. Over 125 years ago JHGS was educating young men and women to work in the Wycombe Furniture Industry. Today, we maintain strong links with many local and global companies, preparing our students to succeed and lead in a rapidly changing global economy. Alongside the academic rigour of the taught curriculum the #BeMore campaign develops in the boys "soft skills" to succeed as a JHGS Learner and in the future world of work.
Our parents praise our commitment to genuinely caring for their son and believe it is what makes JHGS unique. The Pastoral Team at JHGS is outstanding and they will get to know your son and help him throughout his journey at JHGS. We are committed to building a strong partnership between home and school so that as parents you feel as much a part of the JHGS community as your son.
With such an extensive extra curricular programme your son will make friends and have many opportunities to develop new skills and talents. I encourage you to read the sports page on the website to get a flavour of the sheer number of sports on offer and our teams' achievements. Music is also strong at JHGS with a large number of music groups, termly concerts and an annual school production. As you would expect from intelligent and articulate young men debating and discussion are very popular and this is supported through the Pratchett Debating Society, Politicon and JHGSQT, and the Young Magistrates. Regular school visits here and abroad deepen understanding, widen horizons and create friendships and memories that last a lifetime.
For more information and to view our Virtual Open Evening please click here.
JHGS is a forward thinking, innovative school which embraces technology to support and promote learning and personal development. To further demonstrate our commitment to your son we have recently opened our new Design Technology studio and workshops, 2 new Science labs and in Autumn 2021 we have opened our brand new £3.5m Innovation Hub of learning spaces and IT suites. This now houses our Maths, Business, Economics and Psychology departments and will be a true Innovation Hub for the 21st Century.
We are proud of everything we do at JHGS but most of all we are proud of our students, your sons. They join us as young boys and leave us 7 years later as young men. They are inspirational.
Miss Hartley
Headteacher
Head Boy Welcome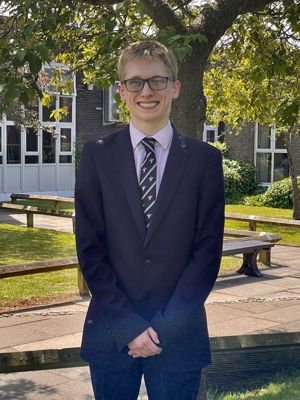 In my time at John Hampden Grammar School, what has really stood out to me is the outstanding level of support, from staff and students alike, and the multitude of opportunities offered to its students. Whilst it seems obvious that students come into school to learn, what makes our school unique is the experiences that John Hampden provides, which are essential in giving students the knowledge and confidence to take responsibility for their progress and to prepare for their future. This is highlighted by our school's #BeMore campaign. Our school is not just a factory that produces great academic results, but it is a school with great success in debating, sport, Science olympiads, music, and even Masterchef competitions, to name a few. The variety of activities the school offers is unlike any other and I believe this enables students to maximise their time at John Hampden and become the best version of themselves.
Personally, I have thrived off the opportunities provided by the school; whether it be representing the school at a debating competition, running for the school at a cross country meet or travelling to different areas of the world including Albania, France, Belgium and Snowdonia. These experiences have shaped me into the person I am today and if students involve themselves in the school community (which I would highly recommend) then they are certain to develop their leadership skills, communication and self-confidence which will prove invaluable in later life.
Students at John Hampden are supported in all avenues of their education and personal lives. Our strong community values at the school enable each student to realise there is no end to their horizons. Teachers encourage students at every opportunity to achieve their full potential by arming them with the necessary skills to achieve their future aspirations. Our teachers are specialists in their subject areas and, importantly, they are enthusiastic and genuinely want nothing but the best for their students. Although success is never guaranteed and it is likely that all students will face challenges, we have a strong support network to ensure no student struggles alone. All of our teachers, our student welfare officers and even our counsel dog are committed to ensuring that each and every student leaves John Hampden with lots of cherished memories and a desire to make an impact on the world.
I am immensely proud to be Head Boy and of our school; its high expectations, fantastic successes and the work done to ensure students are prepared for adult life, as embodied by our ethos 'Quit Ye like Men'. I would like to take this opportunity to thank you for your interest in John Hampden and look forward to meeting you soon.
Kind regards,
Ewan Hayward
Head Boy 2021-2022, on behalf of the Student Body