Welcome from the Headteacher and Head Boy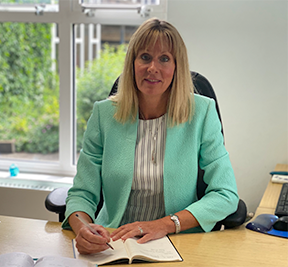 John Hampden Grammar School is remarkable. We seek to give our young men the personal qualities as well as the qualifications to carve out their own bold paths into the future. As you would expect, a challenging academic education is at the heart of what we do. John Hampden is an outstanding school with exceptional academic success. But in a changing world our young men will need more. They will need character, spirit, resilience. They will need to lead, to inspire, to take responsibility. They will need to care, collaborate and create. This is what we mean by #BeMore at John Hampden. We support every individual to build these qualities necessary for happy, successful and fulfilled lives, 'Big lives' as one of our students recently described it. The all round education and values your son will receive at JHGS are embodied in our motto "Quit Ye Like Men."
Our exam results are excellent at GCSE and A level and place us amongst the top performing schools in the country. These results equip our students to succeed at the best Universities in Britain and abroad, to secure places on ultra competitive level 3 apprenticeships and even to set up their own companies upon leaving the Sixth Form. Over 125 years ago JHGS was educating young men and women to work in the Wycombe Furniture Industry. Today, we maintain strong links with many local and global companies, preparing our students to succeed and lead in a rapidly changing global economy. Alongside the academic rigour of the taught curriculum the #BeMore campaign develops in the boys "soft skills" to succeed as a JHGS Learner and in the future world of work.
Our parents praise our commitment to genuinely caring for their son and believe it is what makes JHGS unique. The Pastoral Team at JHGS is outstanding and they will get to know your son and help him throughout his journey at JHGS. We are committed to building a strong partnership between home and school so that as parents you feel as much a part of the JHGS community as your son.
With such an extensive extra curricular programme your son will make friends and have many opportunities to develop new skills and talents. I encourage you to read the sports page on the website to get a flavour of the sheer number of sports on offer and our teams' achievements. Music is also strong at JHGS with a large number of music groups, termly concerts and an annual school production. As you would expect from intelligent and articulate young men debating and discussion are very popular and this is supported through the Pratchett Debating Society, Politicon and JHGSQT, and the Young Magistrates. Regular school visits here and abroad deepen understanding, widen horizons and create friendships and memories that last a lifetime.
JHGS is a forward thinking, innovative school which embraces technology to support and promote learning and personal development. To further demonstrate our commitment to your son we have recently opened our new Design Technology studio and workshops, 2 new Science labs and in Autumn 2021 we have opened our brand new £3.5m Innovation Hub of learning spaces and IT suites. This now houses our Maths, Business, Economics and Psychology departments and will be a true Innovation Hub for the 21st Century.
We are proud of everything we do at JHGS but most of all we are proud of our students, your sons. They join us as young boys and leave us 7 years later as young men. They are inspirational.

Miss Hartley
Headteacher
Head Boy Welcome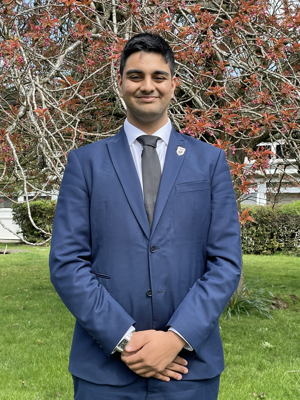 As the head boy of John Hampden Grammar School, I couldn't be more thrilled to share with you the remarkable qualities that make our school truly exceptional. I have been captivated by an atmosphere that radiates warmth, passion, and a genuine commitment to nurturing the potential of each and every student.
A John Hampden education goes far beyond the realm of academics, aiming to shape well-rounded individuals who are prepared to excel in all aspects of life. While the school takes pride in its commitment to academic excellence which is shown by our outstanding external exam results, it equally values the development of character, creativity, and critical thinking skills. Through an inclusive curriculum and an extensive range of extracurricular activities, students are encouraged to explore their passions, discover new interests, and develop a broad skill set. Whether it be participating in sports, joining new clubs and societies, or showcasing artistic ability. Embark on a remarkable journey at our school, where unexpected possibilities await at every turn. From donning the goalie kit for the first XI hockey team, to standing as a magistrate in a mock magistrate court case at the esteemed Royal Courts of Justice, and even joining the Euler Erdos Mathematical Society, my time at this school has been filled with extraordinary experiences I could never have imagined in Year 7. These incredible opportunities exemplify the vast array of avenues for student growth, echoing my point about the multitude of possibilities available for students to really enhance their John Hampden experience.
John Hampden is built on an ethos of "#BeMore": the idea that students can really become not just students but truly scholars while at John Hampden. It encourages them to go above and beyond: fuelling curiosity, developing a thirst for knowledge and inspiring our students to push boundaries, explore new horizons and unleash their full potential.
To allow for students to unleash their full potential, student support is at the forefront of our school and I am proud to say that John Hampden has an incredible support network. At JHGS, our students thrive, thanks to the exceptional level of pastoral care provided. The entire staff looks out for the well-being of our students, ensuring a safe and supportive environment. In addition, we are fortunate to have a school welfare officer and two experienced counsellors who provide professional support when needed. As an added source of comfort, we have a therapy dog named Molly – a great source of comfort when students reach out for advice. This comprehensive pastoral support extends to every member of our community, enabling students to be that little less worried about situations happening outside the classroom.
I am proud to be the Head Boy of a school that has a strong sense of community and pastoral care with ambitious, academically able young men who want to succeed and who will embody the values of the school motto 'Quit Ye like Men' when they leave. I look forward to meeting you in the future and thank you for your interest in the school.
Yours faithfully,
Kairav Singh
Head Boy 2023-2024, on behalf of the Student Body