Welcome from the Headteacher and Head Boy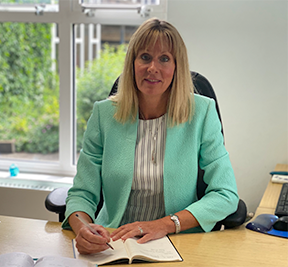 John Hampden Grammar School is remarkable. We seek to give our young men the personal qualities as well as the qualifications to carve out their own bold paths into the future. As you would expect, a challenging academic education is at the heart of what we do. John Hampden is an outstanding school with exceptional academic success. But in a changing world our young men will need more. They will need character, spirit, resilience. They will need to lead, to inspire, to take responsibility. They will need to care, collaborate and create. This is what we mean by #BeMore at John Hampden. We support every individual to build these qualities necessary for happy, successful and fulfilled lives, 'Big lives' as one of our students recently described it. The all round education and values your son will receive at JHGS are embodied in our motto "Quit Ye Like Men."
Our exam results are excellent at GCSE and A level and place us amongst the top performing schools in the country. These results equip our students to succeed at the best Universities in Britain and abroad, to secure places on ultra competitive level 3 apprenticeships and even to set up their own companies upon leaving the Sixth Form. Over 125 years ago JHGS was educating young men and women to work in the Wycombe Furniture Industry. Today, we maintain strong links with many local and global companies, preparing our students to succeed and lead in a rapidly changing global economy. Alongside the academic rigour of the taught curriculum the #BeMore campaign develops in the boys "soft skills" to succeed as a JHGS Learner and in the future world of work.
Our parents praise our commitment to genuinely caring for their son and believe it is what makes JHGS unique. The Pastoral Team at JHGS is outstanding and they will get to know your son and help him throughout his journey at JHGS. We are committed to building a strong partnership between home and school so that as parents you feel as much a part of the JHGS community as your son.
With such an extensive extra curricular programme your son will make friends and have many opportunities to develop new skills and talents. I encourage you to read the sports page on the website to get a flavour of the sheer number of sports on offer and our teams' achievements. Music is also strong at JHGS with a large number of music groups, termly concerts and an annual school production. As you would expect from intelligent and articulate young men debating and discussion are very popular and this is supported through the Pratchett Debating Society, Politicon and JHGSQT, and the Young Magistrates. Regular school visits here and abroad deepen understanding, widen horizons and create friendships and memories that last a lifetime.
For more information and to view our Virtual Open Evening please click here.
JHGS is a forward thinking, innovative school which embraces technology to support and promote learning and personal development. To further demonstrate our commitment to your son we have recently opened our new Design Technology studio and workshops, 2 new Science labs and in Autumn 2021 we have opened our brand new £3.5m Innovation Hub of learning spaces and IT suites. This now houses our Maths, Business, Economics and Psychology departments and will be a true Innovation Hub for the 21st Century.
We are proud of everything we do at JHGS but most of all we are proud of our students, your sons. They join us as young boys and leave us 7 years later as young men. They are inspirational.

Miss Hartley
Headteacher
Head Boy Welcome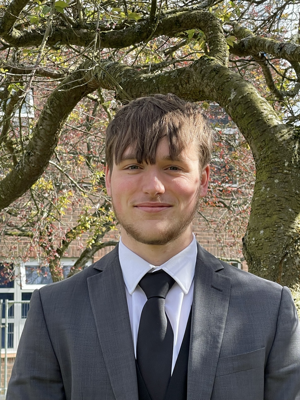 During my time at JHGS I've loved the variety of opportunities I have had. For those who thrive in competitive environments, there are a huge number of chances to compete against others. This happens within the school - in inter-house competitions ranging from poetry to fastest Rubik's cube times, mastermind to football and more - as well as battling with other schools in external competitions. We do this in a wide range of sports (some to a national level), debating and mock trials to name but a few. If you don't have much of a competitive edge… you can still get involved! There are a plethora of participation clubs that welcome anyone of any level of experience. The school's desire to get everyone taking part is highlighted in our #BeMore campaign; "#BeMoreInvolved". This is present in our love of extra-curricular and super-curricular but also when trying to help every student take part in their lessons; 'hands up' for answering questions becoming a thing of the past for teachers as they opt to discuss questions with everyone. Being involved in the JHGS extra-curricular and super curricular activities is a great way to make friends, develop and learn new skills which will help you in school and in life after JHGS.
As well as being driven to give every student a passion to get involved, John Hampden prides itself on having an incredible support network. As students we thrive because of this pastoral care. All staff look out for the students at JHGS. We're also fortunate to have a school welfare officer and two counsellors. We even have a therapy dog called Molly and she is an incredible comfort to students when a visit to get some advice is needed. Helping every member of the community with this pastoral support means that lessons can remain focused on learning as students are less worried about things that may be going on outside of the classroom.
I am immensely grateful for all of the opportunities and support I have received at the school and am incredibly proud to be the new Head Boy at John Hampden; a school with a strong sense of community and pastoral care, with ambitious, academically able boys who want to succeed and who will embody the values of the school motto 'Quit Ye like Men' when they leave. I look forward to meeting you in the future and would like to thank you for your interest in the school.
Yours Faithfully,
Caleb Andrews
Head Boy 2022-2023, on behalf of the Student Body