Alumni
Welcome Back!
We would love to keep in touch with all our Alumni and now send out a newsletter twice a year to those on our mailing list. Life at the school changes on a very regular basis and this past couple of years have introduced us to an entirely new set of challenges.
x Join our mailing list here x
It is incredibly beneficial to our current students to hear from Alumni to find out what they have done since leaving JHGS and we are always very keen to hear from those who would like to talk to the boys about their careers or university experiences. With virtual meetings a new norm, we hope this will make it easier for Alumni who have left the area to talk to our students more easily too.
July 2022
'From here to there' - the JHGS 'What's next?' Fair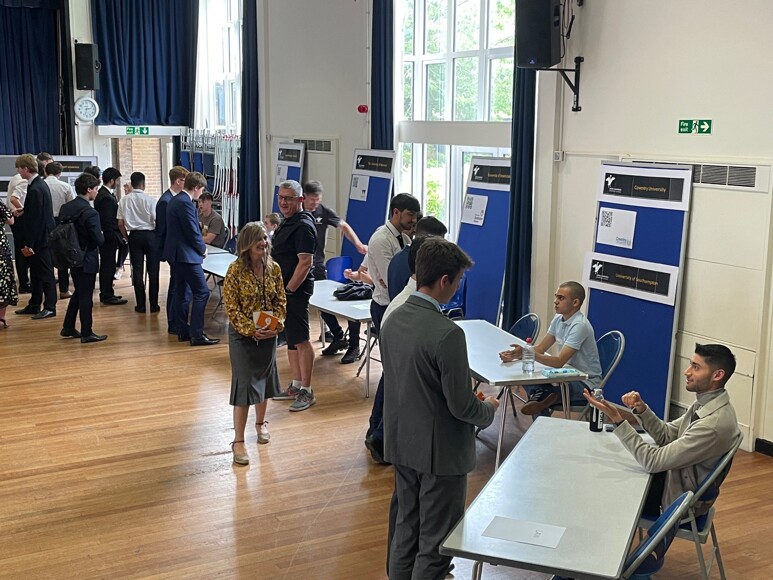 We had a very successful inaugural 'What's next?' Fair in July. Where recent alumni were invited back to school to meet with and advise our current year 12s. These were informal chats to talk about their university, course, apprenticeship and the surrounding questions someone applying now for their next steps might have.
We were so thankful to those who came back to help and with a bit more notice we hope to repeat the event in the 2022/23 academic year. It was excellent having a split between those currently on apprenticeships and at university and current students were really appreciative of the information and time given by the alumni.
Linkedin
Our Linkedin page has been upgraded to 'School' status (from March 2021), which means you now have the opportunity to add JHGS to your education profile, along with the school logo of course.
https://www.linkedin.com/school/john-hampden-grammar-school/
We also have a closed group John Hampden Grammar School Alumni which as an ex student or member of staff you are very welcome to apply to join.
To download our latest newsletter please click below.