Extra Curricular
The curriculum experience for students at JHGS extends beyond the timetabled curriculum, reflecting our aspiration to offer a broad and enriching experience. Our extra-curricular activities are all designed to offer students the chance to expand their skills and experience beyond the classroom. Activities take place both within the school day through our range of clubs, societies and groups, as well as outside of normal school hours into the evening, weekend and holidays.
In addition, nearly every department has additional clubs which run at lunchtimes and sometimes after school too. There is a slightly modified timetable this year due to current social distancing restrictions. Details of these activities can be found currently on their associated Google Classrooms within school and new clubs are advertised in the Parent Bulletin.
Please refer to the submenu for details of Sports, Music and Duke of Edinburgh opportunities.
Extracurricular Clubs and societies for the Autumn Term 2022
In addition to the wide range of sports clubs and squads, the following table highlights the range of options available to students in the Autumn term that are available to join. Activities take place mostly within the school day, and group leaders will be able to advise students of any equipment or materials that may be needed as appropriate.
Group sizes may be limited by available resources and facilities. Year group availability reflects age appropriate and related activities.
Please click here to view the list.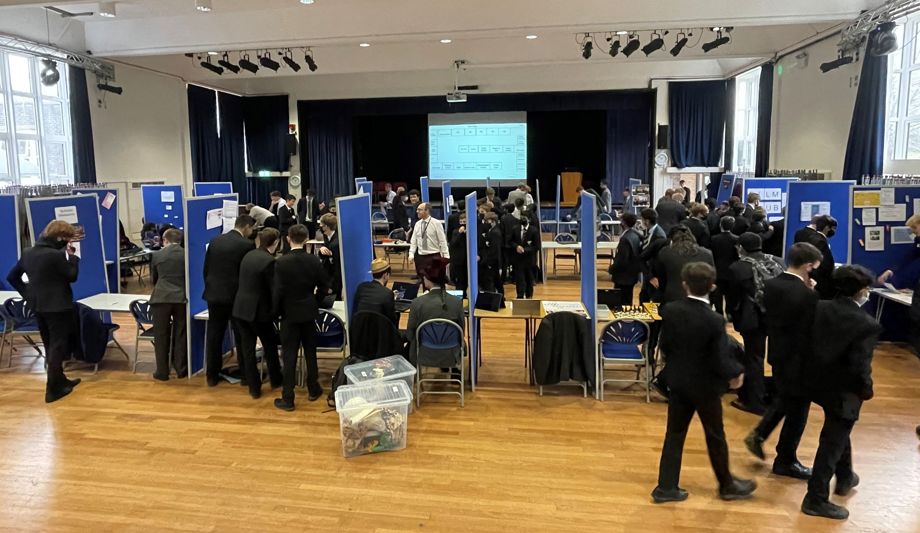 The November 2021 i-Tec Fair (Introduction to Extra Curricular Activities)
Sixth Form Enrichment and Extracurricular Opportunities
An additional menu of enrichment activities are offered for students in Year 12. Students must sign up to at least one enrichment activity, which is timetabled once a week during a common period (unless otherwise stated or agreed). The purpose of these activities is to broaden students' experience during KS5 and to prepare them for their journey after JHGS. The activities below are taking place during the 2021/22 academic year.
| Enrichment Activity | Staff Lead | Outline |
| --- | --- | --- |
| Audio Visual Technician | Mr Rogers | Audio and video creation for the school, including pre-recording concerts and information evening material. |
| Mindfulness and Wellbeing | Dr Estridge | This group will focus on paying more attention to the present moment, allowing you to develop and improve your own mental wellbeing. |
| Massive Open Online Courses (MOOCS) | Miss Labonte / Mr Sawdon | MOOCs offer students a chance to complete a variety of courses delivered online (usually by universities) over the course of a number of weeks. |
| Computing Society | Student led | |
| Photography | Student led | An opportunity to learn more about photographic technique and equipment, as well as the role of photography as a recording art form. |
| Sports Science | Student led | |
| F1 | Student led | |
| Engineering Society | Student led | |
| Horticulture Club | Student led | Aimed at Biology students, this activity takes place outside in the school garden/greenhouses. |
| Oxbridge Preparation | Mrs Bolton | For those considering an Oxbridge application, includes debates/discussions, practice of admissions tests/interview questions and development of their applications/personal statements to meet the requirements necessary. |
| Med Soc | Miss Doxopoulou | An opportunity to discuss current medical issues adn the science behind the profession, whilst supporting students with their medicine, dentistry and veterinary medicine applications. |
| Law Society | Student led | |
| Primary School Outreach | Mr Turner | Community engagement outside of JHGS, working alongside primary teachers in their schools to deliver Science, English and Maths, and work with small groups of pupils to help with one-to-one reading. |
| The Extended Project (EPQ) | Mr Parbery | A research based qualification which allows each student to embark on a largely self-directed and self-motivated project and develop independent learning and project management skills. |